Lebanon's Druze Fear IS and Hezbollah
By Mona Alami
Posted 2014-10-30 23:55 GMT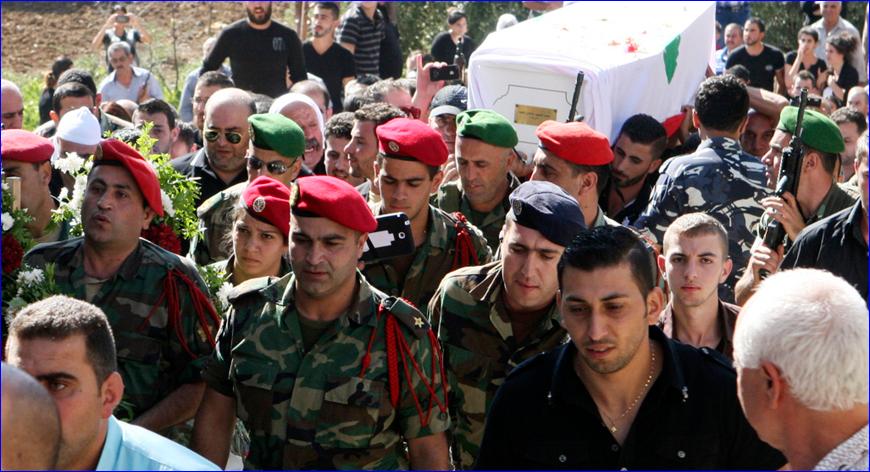 Lebanese army soldiers and relatives of Druze soldier Khaldoon Raouf Hamoud carry his coffin during his funeral in Akbeh, Rashaya, Aug. 3, 2014 (photo: REUTERS/Shawky Haj).The Lebanese Druze leadership and community have sat on the sidelines of the inter-Muslim conflict arising in the region. But they are facing a growing dilemma with the rise of the Islamic State (IS) in Lebanon, stuck in a struggle between the threat posed by the organization and the Druze community's difficult history with Hezbollah.
As Lebanon's north was rocked by battles between extremists affiliated with Jabhat al-Nusra and IS against the army, a small unit of Druze militants participated in live-fire exercises and combat training in one of the verdant valleys of the Metn Mountains, sources said.
Some 250,000 Druze, representing 5% of the Lebanese population and known as al-Mowahedoon (Unitarians), are currently spread over Mount Lebanon, the Chouf area, the Bekaa Valley and South Lebanon. The movement, initiated by Hamzah Bin Ali, is built on an esoteric interpretation of Islam and Sufism. The community is known for its fierce fighters who fought in the Lebanese civil war.
Abou Alaa, a Druze military trainer whose name has been changed for security reasons, told Al-Monitor, "With the security situation deteriorating day by day, the danger has become too great for us to sit idle. When the 1975 civil war started, we were ill-prepared to face the onslaught. We will not make the same mistake twice. We have to prepare for the worst."
Druze watch with angst as violence engulfs Lebanon. In the last month, several terror networks were dismantled by the Lebanese army, the last of which led to the discovery of three booby-trapped cars. IS terrorist Ahmad Mikati admitted this week to helping his organization create a caliphate in North Lebanon by recruiting people and preparing suicide attacks targeting Shiite Hezbollah strongholds.
Read the full story here.
By