After Kobani, Where is the Islamic State's Next Target?
By Metin Gurcan
Posted 2015-01-22 00:22 GMT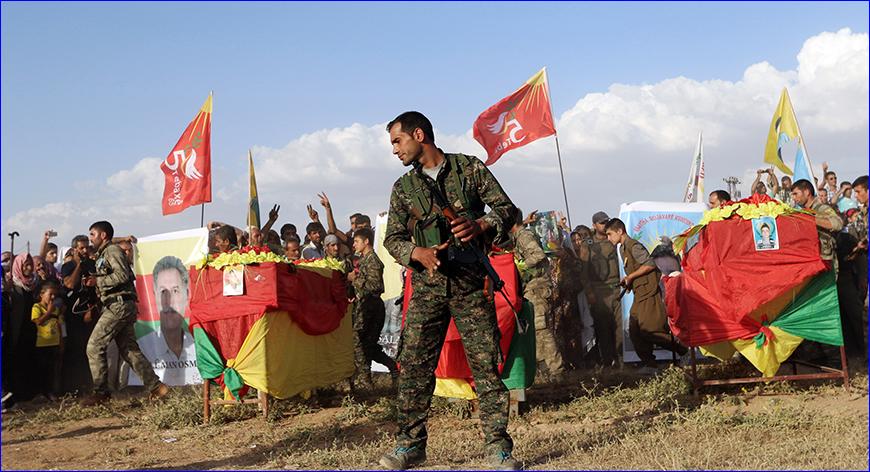 Kurdish People's Protection Units (YPG) members organize a funeral for members said to have been killed during clashes with forces loyal to Syrian President Bashar al-Assad in Hasakah, May 23, 2014 (REUTERS/Rodi Said).In a newspaper interview in November 2013, Salih Muslim, the co-chairman of the Kurdish Democratic Union Party of Syria (PYD) had predicted: "The situation in Hasakah is sensitive. If pushed, it could lead to Kurdish-Arab clashes." News reports from the northeast Syria town of Hasakah, which we don't usually hear much about, proved Muslim's warnings were on the mark. Clashes that erupted in Hasakah on Jan. 17 between the PYD's military wing, the People's Defense Units (YPG) and National Defense Forces, an auxiliary of Syrian President Bashar al-Assad's army, couldn't be halted and inflicted casualties on both sides.
Reports coming from south of Hasakah say the Islamic State (IS) is massing forces for an offensive to capture Hasakah while coming under coalition air force attacks in the same area.
A glance at the map of Syria is enough to understand the strategic value of Hasakah. Above all, Hasakah dominates the roads between IS-controlled Mosul and Raqqa. It is the southern access to Jazeera canton of the Kurdish Rojava region.
It is also the last bastion of the Assad regime in that area. The latest developments in Hasakah show that the town. which had been generally calm in the 4-year-old civil war, is now the focus of the power struggle between Kurds, Arabs and IS. Kurds live north of the Khabur River that divides Hasakah, while mostly Arabs live to the south of it. The town is already divided demographically. What is escaping attention is that tens of thousands of Syrians of different religious and ethnic origins escaping from the war have increased the population of the town to 400,000.
Read the full story here.
By